You have never dived? It's perfect, this experience is made especially for you.
You don't need a certification to learn to dive.
Breathe easy, relax, we take you to discover a magical world!
Book your
Discover Scuba Diving $170
Welcome to a new world. The Discover Scuba Diving program opens the doors of the Blue Planet where you will discover an even richer and more exciting environment than what you have dreamed of. No doubt: you will be excited!
What can you expect? First, a lot of fun and a new fascinating experience! The first underwater breaths, the weightlessness, the colors and all that, with a total sense of security in the company of a professional PADI. You will be asking for more!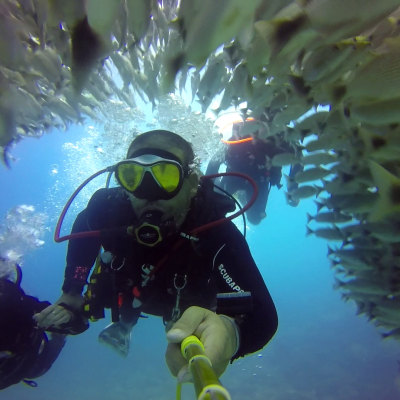 Diving at sea is done only by good visibility conditions.
duration
2 hours if only swimming pool or minimum half day if pool and sea
contents
Brief theory, basic briefing, diving in the pool or pool and at sea
Prerequisites
Know how to swim
At sea and in the pool
$ 160
Included
Full equipment
Dicsocver scuba diving certification